Assembly Hall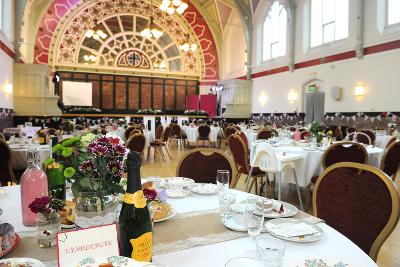 The Assembly Hall is our largest room complete with stage, seating balcony, and bar, making it ideal for larger events as well as those incorporating entertainment, such as: weddings, receptions, awards, concerts, fayres, and plays.
The hall can hold up to 300 people, or up to 360 if using the balcony. With ornate features, double height ceiling and proscenium arch, the hall can be dressed to suite any occasion.
Booking and pricing
You can review pricing information, or you can contact us to make a booking.
Catering and refreshments
We can provide catering and refreshments for all events, either through our own catering services and partners, or we can work with you to incorporate your own catering provider.